Quebec Skilled Worker Program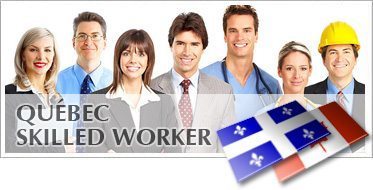 Quebec Skilled Worker Program
As of November 4, 2015, postal applications for the Quebec Skilled Worker Program (QSWP) will be accepted. This Canadian immigration program aids successful candidates and their families obtain Canadian permanent resident status.
Benefits to applying for the Quebec Skilled Worker Program:
First come, first served;
No Invitation to Apply required;
No job offer required for application;
You can apply while remaining in the Express Entry pool to increase your chances;
Points available for proficiency in English and/or French;
No waiting pool of candidates;
Gain points for your Area of Training;
Establish yourself and your family in a culture-rich, exciting region of Canada;
As the Quebec Skilled Worker Program application cycle works on a first –come, first-served basis, it is a more straight-forward way of obtaining Canadian permanent resident status compared with other programs processed through the Express Entry selection system.
Several changes have been made to the Quebec Skilled Worker Program over the past few months. A new Area of Training list has been released, and as of August 2015, the pass mark to obtain a Quebec Selection Certificate (CSQ) has been lowered, and the adaptability factor has been removed.
The new application cycle for the Quebec Skilled Worker Program will be split into 2 periods. The first period will run from November 4 to December 15, 2015, accepting up to 3,500 postal applications. And the second will run from January 18 to March 31, 2016, accepting up to 2,800 online applications.
QSWP: 6,300 spaces
November 4 – December 15, 3,500 postal applications only
January 18 – March 31, 2,800 online applications only
Two-step process
Obtain a Quebec Selection Certificate (CSQ)
Apply to the government of Canada for permanent residence
Quebec Skilled Worker selection factors
The Quebec Skilled Worker Program uses a points-based system. Job offers are not required for the QSWP. The following is a breakdown on the selection factors system:
Education: up to 14 points
Area of Training: up to 16 points
Validated Job Offer: up to 10 points
Work Experience: up to 8 points
Age: up to 16 points
Language Proficiency: up to 22 points
Family/Stay in Quebec: up to 8 points
Spouse/Partner's Factors: up to 17 points
Accompanying Children: up to 8 points
Financial Self-Sufficiency: 1 point
A single applicant must score a minimum of 49 points, while an applicant with a spouse/partner must score a minimum of 57 points. Extra points may be awarded for French proficiency, and applicants who have strong credentials in other areas may gain extra points. Once a Quebec Selection Certificate has been issued, medical and security examinations must be successfully completed by the applicants.
Candidates may apply under the Quebec Skilled Worker Program and submit an Express Entry profile, as long as they withdraw one when either the CSQ or Invitation to Apply (ITA) is issued.
To find out if you're eligible for the Quebec Skilled Worker Program, contact Alghoul and Associates today and receive a free immigration assessment.
Success Stories
As a result of the way our case has been handled we are actually ahead of schedule with our plans to move to Canada. Mike and the team at Alghoul Law Firm have created a new reality for us. Our sincere and heartfelt thanks to have made this all possible.

Thank you for the help and advice you have given us. It has made what is a very stressful experience a lot less so and we have an end to our dreams of immigrating to Canada now in sight.

The lawyer at Alghoul and Associates Law office got my wife Canadian permanent resident to bring my wife to Canada from China through the Canada Immigration Spousal sponsorship program. They also got my mother super visa so my mom to be here with me and my wife when we are having our first baby girl. The office staff completed the forms and helped gather documents. The law office also communicate directly with Citizenship and Immigration Canada CIC on my behalf and my mother behalf on several occasions to replay and follow up on my application. The lawyer was knowledgeable and staff very friendly and helpful. Thank you for everything

I had a very nice meeting with an immigration consultant at Alghoul Law and Associates. They explained to me the international study program leading to permanent residency through the Manitoba MPNP. Also I received advice on the Manitoba Provincial Nominee Business program. Consultation was FREE and Alghoul team was very friendly and knowledgeable.