Who is eligible to be considered as a Refugee?
This program was created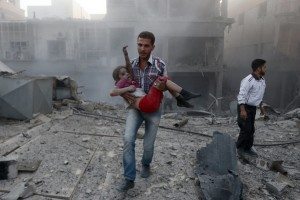 specifically for persons showing desperate need.  There are two classes of persons who may qualify as refugees for Canada's refugee and humanitarian resettlement program.
A Convention refugee is any person who by reason of a well-founded fear of persecution because of race, religion, nationality, membership in a particular social group or political opinion
is outside the country of his or her nationality and is unable or, by reason of that fear, unwilling to avail himself or herself of the protection of that country; or
does not have a country of nationality, is outside the country of his or her former habitual residence and is unable or, by reason of that fear, unwilling to return to that country.
Convention Refugee Abroad is any person who:
is a Convention

refugee

;
is outside Canada;
is seeking resettlement in Canada;
does not have a prospect of another durable solution, within a reasonable period of time, that is:

cannot return to his or her country of nationality or habitual residence;
cannot integrate in the country of refuge or the country of first asylum; and
does not have another offer of resettlement from a country other than Canada.

will be privately sponsored or assisted by the government or has adequate financial resources to support himself or herself and any dependants.
A member of the Country of Asylum Class is a person:
who is outside his or her country of citizenship or habitual residence;
who has been, and continues to be, seriously and personally affected by civil war or armed conflict or who has suffered massive violations of human rights;
for whom there is no possibility of finding an adequate solution to his or her situation within a reasonable period of time; and
who will be privately sponsored or who has adequate financial resources to support himself or herself and any dependants.
An officer at a Canadian visa office makes the final decision on whether someone meets one of these definitions and is, therefore, eligible for resettlement. The eligibility decision is normally based on an interview with the applicant, supporting documentation submitted by the applicant and sponsoring group and additional information available to the officer (such as country condition updates).
To be accepted for resettlement in Canada, they must also pass medical, security and admissibility checks. In addition, refugees will be assessed on their ability to establish successfully in Canada. In making this assessment, the visa officer will consider whether the refugee has relatives or a sponsor in Canada, the ability to speak or learn to speak English or French, the potential for employment and resourcefulness. When a family unit is applying, the settlement potential of all family members is assessed as a single determination. Refugees deemed by the visa officer to be in urgent need of protection or in vulnerable circumstances are not assessed on their ability to establish.
Success Stories
As a result of the way our case has been handled we are actually ahead of schedule with our plans to move to Canada. Mike and the team at Alghoul Law Firm have created a new reality for us. Our sincere and heartfelt thanks to have made this all possible.

Thank you for the help and advice you have given us. It has made what is a very stressful experience a lot less so and we have an end to our dreams of immigrating to Canada now in sight.

The lawyer at Alghoul and Associates Law office got my wife Canadian permanent resident to bring my wife to Canada from China through the Canada Immigration Spousal sponsorship program. They also got my mother super visa so my mom to be here with me and my wife when we are having our first baby girl. The office staff completed the forms and helped gather documents. The law office also communicate directly with Citizenship and Immigration Canada CIC on my behalf and my mother behalf on several occasions to replay and follow up on my application. The lawyer was knowledgeable and staff very friendly and helpful. Thank you for everything

I had a very nice meeting with an immigration consultant at Alghoul Law and Associates. They explained to me the international study program leading to permanent residency through the Manitoba MPNP. Also I received advice on the Manitoba Provincial Nominee Business program. Consultation was FREE and Alghoul team was very friendly and knowledgeable.