Refugee Information Overview
Each year, millions of people are forced to leave their homeland in order to evade persecution, war or severe abuse of their human rights. In majority, these people can never return home. In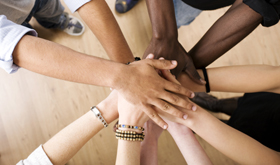 keeping with its humanitarian tradition and international obligations, the Government of Canada provides assistance to thousands of such displaced persons every year through its Government-Assisted Refugee (GAR) program.
Canadian citizens are given the opportunity to provide sanctuary for refugees living abroad; to find protection and build a new life in Canada through the Private Sponsorship of Refugees (PSR) program. This guide explains how the private sponsorship program works, who may be sponsored, the obligations involved and the application process.
The Private Sponsorship of Refugees Program aids thousands of refugees per year. As a sponsor, you are responsible for providing financial and emotional support for the refugees for the duration of the sponsorship. Examples of necessary expenses include housing, clothing and food. A typical duration of sponsorship is one year, but some refugees may be eligible for assistance from their sponsors for up to three years.
Refugees must qualify for entry under Canada's laws and must pass medical and security checks before they can come to Canada.
Sponsorship Agreement Holders
Groups all over Canada have agreements with the Government of Canada to help support refugees from abroad while they resettle in Canada. These groups are known as sponsorship agreement holders.
Blended Visa Office-Referred Program
The Blended Visa Office Referred (VOR) Program was put in place to match refugees identified for resettlement by the United Nations High Commissioner for Refugees (UNHCR) with Canadian sponsors.
Groups of five
A group of five (or more) Canadian citizens/permanent residents over the age of 18 can sponsor one or more refugees to come to Canada and settle in their area.
Community sponsors
Some community groups can sponsor refugees to come to Canada.
Joint Assistance Sponsorship Program
Organizations can work as partners with Citizenship and Immigration Canada (CIC) to resettle refugees with special needs.
Quebec sponsors
Quebec has its own process to sponsor refugees. Find more about refugee sponsorship in Quebec.